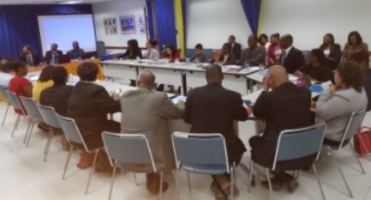 ---
On October 23, 2017, the Fair Trading Commission (FTC) together with the Planning Institute of Jamaica (PIOJ) hosted a high level stakeholder consultation with senior representatives of several Government Ministries, Departments and Agencies, to discuss the framework for Jamaica's Merger Review Regime, which is being created with the assistance of a team of consultants.
The meeting was chaired by Mr. David Miller, Executive Director of the FTC, and discussions were led by Menns SPRL of Belgium who together with LEAR Lab S.R.L. of Italy was awarded the consultancy following a bid process that was overseen by the PIOJ.   In his opening remarks Mr. Melvin Smith, Project Manager of the PIOJ, explained that the economic environment is ripe for a Merger Review Regime in Jamaica and the purpose of the consultancy is to craft the framework, legislation and regulations that are most appropriate for Jamaica; as well as conduct training of key stakeholders within a six month period.
Fourteen Ministries, Departments and Agencies participated in the discussions, including the Ministry of Industry Commerce Agriculture & Fisheries, the Ministry of Economic Growth & Job Creation, the Ministry of Justice, the Ministry of Science, Energy & Technology, the Ministry of Transport & Mining, the Attorney General's Department, the Bank of Jamaica, the Consumer Affairs Commission, the Financial Services Commission, JAMPRO, the Office of the Chief Parliamentary Counsel and the Office of Utilities Regulation.
The consultancy will effectively address the challenge of defining appropriate procedural, institutional and substantive review rules and remedies to particular mergers in all sectors of Jamaica's economy, which are likely to affect Jamaican consumers.
The consultancy falls under the Foundations for Competitiveness and Growth project being financed by a World Bank loan. The initiatives under the project are expected to strengthen the enabling environment for private sector competitiveness to help Jamaica unleash its potential for productivity and growth.