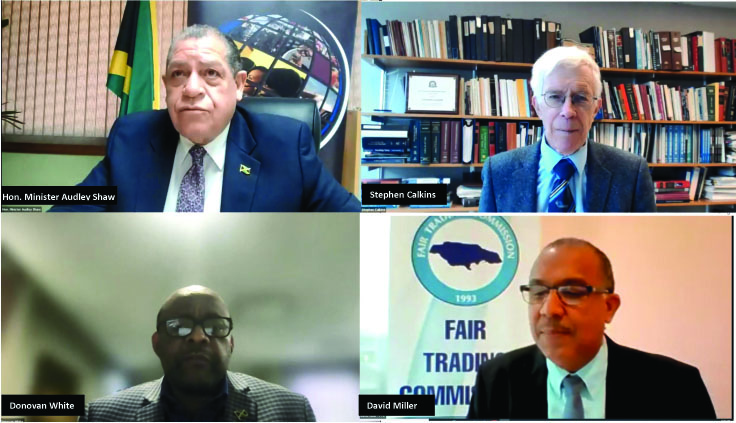 ---
On December 8, 2021, the Fair Trading Commission held the 19thLecture in the Shirley Playfair Lecture series.  Mr. Stephen Calkins, Professor of Law from the Wayne State University, delivered the Lecture with the theme "Integrating Competition Law and Consumer Protection Law: Optimizing Consumer Welfare."
In opening the programme, Mr. David Miller, Executive Director of the Fair Trading Commission, quoted Dr. Lori Playfair, daughter of the late Shirley Playfair.  Dr. Playfair stated that she and her sister Lisa view the Lecture "as a great learning experience for policymakers and consumers.  Advocacy and education were our mother's passions and our nation should continue to benefit from these lectures".
The Lecture, which was described by the audience as very good, insightful, and engaging, explored the purpose and usefulness of a single authority enforcing competition law and consumer protection law.  Mr. Calkins drew on experiences primarily from the Irish Competition Authority and the United States Federal Trade Commission and described issues, concerns and challenges from institutional, legal, operational, marketing, and staffing perspectives while highlighting the benefits that may redound to the business community and consumers.  He gave illustrative examples of competition issues and consumer protection issues, describing how they may intersect and providing insights on the appropriate tools that should be used, when these tools should be used, and the relevant circumstances.
Minister Audley Shaw, Minister of Industry, Investment, and Commerce, delivered pointed remarks on the purpose and expectations of creating a single entity that will enforce both the competition law and the consumer protection law.  He said, "to ensure a single authority that will engender improved operational efficiencies, and drive a highly productive relationship among consumers, businesses, and the economy."
The Lecture was followed by a vibrant Question and Answer session. The audience posed questions primarily on the institutional, policy and legal perspectives while exploring different operational areas relating to staffing and marketing the single entity.
In closing the Lecture, Mr. Miller extended a special thank you to the Staff who planned and staged the event.  In reflecting on Mr. Calkins' statement from his Lecture, that there generally exists a high level of knowledge and expertise in agencies, Mr. Miller commended the Staff for their high-quality work and commitment, highlighting that the Staff's expertise and competencies cover their core responsibilities as competition practitioners, information and communication technology, as well as public relations and staging events such as the Lecture.  Mr. Miller added that "The FTC will continue to use its global ties by leveraging relationships with persons like Stephen Calkins to strengthen competition law in Jamaica."